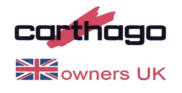 Members Sales - Motorhomes
If you are buying please the advertisements below and contact the vendor directly.
If you wish to sell then we are sorry to tell you that as from end of November 2019 the For Sale pages
will no longer feature on our website.
Our members have found that a much greater success is achieved through the websites that reach a
much larger audience such as eBay and AutoTrader motorhome section.
I am looking to purchase a Carthago Chic, A class, preferably on a Mercedes chassis but not to bothered if the right
vehicle comes along. Right or left hand drive. I am looking to spend £ 40,000 approx.
Contact:

Raymond Hanlon
E-mail: hanlon26@hotmail.com
mobile: 07554 250572
WANTED
Carthago Chic Mercedes preferred
For Sale
follows below the
'Wanted'
advertisements
WANTED
Silver screen
I am looking for external silver screen to fit my Carthago A-class 5.8 xl qb 2016.
Similar to the photo.
Please contact:
Mark Morgan
Mobile:
07817 902608
Carthago C Tourer I 148 2014 £58,500
7,000 miles 2.3 litre 130 BHP
Satellite TV, Solar panel, Towbar,
1 kw Inverter
Spare wheel and carrier
Fridge/freezer and cooker
Large, high garage.
Well cared for, serviced and checked.
Reason for sale: Retiring from motorhoming
Please call for more details:
Allan Wright 07799 865240
Suffolk
Ad placed: February 2018
Carthago C-Tourer 143 2017 (67)
Reduced to
£72,000
Manual, 150 bhp, 11,000 miles
Lightweight 3,500kg chassis
Chassis Package, Comfort Package & Media Package
LED Driving Lights, Best View Bus Mirrors, SOG Toilet
Venezia Cream Interior (Always Had Covers On)
Cab Air Con, Heating (Mains Elec & Gas)
Pioneer Head Unit With Sat Nav, Bluetooth And CD/DVD Player
Pull Out TV, Reversing Camera
Large Fridge With Freezer (Door Still Has Protective Film
Fitted)
Twin Single Beds Over Garage (Can Be Made Into Large
Double)
Unused Pull Down Double Bed over Cab (Still Plastic Wrapped)
Carthago Bed Spread & Carpet Set Unused Still In Plastic
Wrapping
Twin Large Garage Doors, Factory Fitted Coffee Machine
(Unused)
Light Coloured Wood Floor, Wind Out Awning
Solar Panel, Thatcham Cat 1 Alarm, Roof Rack,
Extra Leisure Battery, Thermal Screen Cover & Ext BBQ Point
Contact:
John Whatman
Email:
j.whatman@btinternet.com
Mob:
07786 115455
(If No Answer Please Use Email)
Location: North Lancashire Jct 34 or Jct 36 M6
Carthago C Tourer i149 2016 (65)
REDUCED
to £54,995
LHD, 33,000 miles, One owner only
Reason for sale: change of travel plans
This is a fabulous example of the Carthago C Tourer i149 offers spacious sleeping for 4
and the highest level of comfort.
The layout offers twin beds that can be made into a large king size bed if you prefer at
the back with a drop down bed at the front. You have a spacious L-shaped lounge and
kitchen and a garage large enough to store a scooter.
Specification Includes:
Height 2.90m, Width 2.30m, Length 7.50m
2.3 litre 150bhp turbo diesel 6 speed manual
Traction control, Trip computer, Cruise control, Hill descent assist, Central locking
Electric drivers window, Electric heated wing mirrors, Fully winterised with double floor
Truma programmable blown air heating and hot water system, Reversing Camera
DVD/CD/ radio with USB and 4 speakers, 19" Pull up TV, LED lighting throughout
Blinds with flyscreens on all windows and habitation door, Flyscreens on all Heki
skylights, Net privacy curtains on bedroom and living room windows
Overbed reading lights, Full length mirror
Separate shower and WC wash area, Laundry basket
Large Dometic 3 way fridge freezer, 3 ring gas hob with overhead extractor fan
Stainless steel sink with mixer tap, 150 Litre fresh water tank and 140 litre waste water
tank, SOG toilet, Gaslow LPG system with 2 x 11kg bottles and 3 adapters
Growler with Strikeback tracker system
Twin leisure batteries, Winter/Summer windscreen cover, Mud and snow tyres,
Thule Omnistor awning.
Contact:
David Moorcroft
Email:
janddfrancais@gmail.com
Mobile:
00 44 7896 239470
Carthago Chic C-Line (II) I 4.9 - July 2017 (in warranty)
now reduced
£ 79,500
Silver, 15000 miles, Manual, 150 bhp. ALKO Chassis
Tracker, Reversing Camera, Gasflo LPG
Ext BBQ Point, Ext Shower Point
Internal Bike Rack (in garage), Awning
90cm Satellite & Pull Out TV
Twin Single Beds Over Garage (Large Double)
Over Cab Pull Down Bed, Comfort Package
Factory Fitted Coffee Machine
Contact:

Tony (Anthony) Stokes / Joanna Wingate
Email:

tony.c.stokes@icloud.com
Mob:

07980 971140

or

07778 901440
Available/viewing by arrangement DEVON (UK) or MURCIA (Spain)
Carthago C tourer 143 T 2015 £54,
000
It is with much sadness that due to a change in circumstances we are selling our
beloved Motorhome.
She has super comfy single beds (fit 6ft 3 person comfortably) that convert into
a huge double and an enormous garage to store all your bits and bobs.
A Dream to drive and super comfy and relaxing to holiday in
Fiat Ducato 3.5 ton (normal licence) L 6.89m, W 2.27m, H 2.94m + dome
150 bhp 2.3l engine, Automatic
Full service history with recent full engine check, Full MOT (March 2019)
Integrated Sat Nav with reversing camera
Thatcham alarm, 4 seat belts, Wood trim in cab, Two tone wood cabinets
Removable carpets, Satellite dome for TV
100W Solar panel, Cab air con, 160 litre Fridge/freezer, 3 burner hob
Swivel cab seats, SOG toilet (cassette in pristine condition)
4m awning (Thule 6200), Electric socket (230 v) garage, External shower,
External gas point
Gas Lo inlet fitting, Tow bar, Truma Combi 6e dual heat and hot water
2 berth, so, loads of headroom in living area
110 litre Fresh Water, 100 litres Waste Water
A beautiful compact van at just under 7m
Contact:
Hilary McKay
Email:
haitchjay@me.com
Phone:
07427 609388
Carthago C Tourer 149 2015, £69,500
RHD, 2.3 Manual, 8,684 Miles
4 berth, 4 x seat belts, Fiat Ducato upgrade to 150hp, chassis
uprated to 3850kg but can be returned to original 3500kg. Chassis,
Comfort and Media packages, 16 inch alloys, 4.5m awning, hot/cold
exterior shower, Combi 6 heating and water, fully automatic 85cm
satellite system, 19" led tv with DVB-T tuner, upholstery upgraded
to Barcelona, tow bar with single electrics, oven installed under hob
unit not tower, alarm with 2x movement sensors and switch's on
main doors/garage, inside sensors can be inhibited while leaving
external alarmed for own safety and pets, 150watt solar panel and
controller for vehicle and leisure batteries, plus many other items,
Carthago build quality with aluminium/RTM/aluminium and
insulation walls, double floor, large garage, plus many other
exceptional features.
Contact:
David Beech
Phone:
01952 617333
or
07948 298918
Email:
dave-lb@hotmail.co.uk
Location: Telford Shropshire.
Carthago C-Compactline I 143, 2016
reduced
£55,000
approx 10,000 miles 150HP Manual
MOT to April 2020, Carthago Water Ingress certified
We are sadly selling "Annabel" to raise capital to complete a house-building project
(if you watch Grand Designs you'll know how difficult it is to keep within budget).
Fully specified: Chassis Package, Comfort Package, Media Package
This means: Climate control in cab, cruise control, wiring for solar and satellite,
double lens reversing camera, DAB radio, alloy wheels, electric drop down front bed,
SOG.
Addons: Avtex TV, 2x14kg GasLo, twin habitation batteries, Dometic oven,
Nespresso machine, internal double cycle rack, garage shower, external TV aerial
point, COBRA alarm, removable carpets, external silver screens, rear steadies.
etc.etc.
Contact:
Nick Lewkowicz
E-mail:
nicholaslewkowicz@hotmail.com
Mobile:
07771 511850
Location: West Dorset
Carthago Mega Liner 2005 £60,000+
42,000km, LHD, MAN chassis 8.8m long
The most luxurious Carthago model with every
conceivable extra.
Ideal for Continental touring, fully winterised.
Must be seen to be appreciated.
Further photos and information on request.
Contact:
George Heritage
Mobile:
07956 862504
E-mail:
geheritage@aol.com
WANTED
Carthago Chic C Tourer
We are looking for a Carthago c-tourer 144le or similar length van please (7m). Must have single beds and cab aircon.
wendymurray@btinternet.com